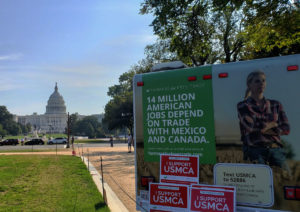 To celebrate the July 1 implementation of the U.S.-Mexico-Canada Agreement (USMCA), House Agriculture Committee Chairman Collin Peterson and U.S. Senator Joni Ernst held a virtual roundtable Tuesday to discuss the importance of USMCA to farmers, rural communities and ag exports. The roundtable was hosted by
Farmers for Free Trade
, which showed support for USMCA with an 11 state, 4,300 mile RV tour across the country.
Participating were:
– Congressman Collin Peterson (D-MN)
– U.S. Senator Joni Ernst (R-IA)
– Congressman Jim Costa (D-CA)
– Congressman Ron Kind (D-WI)
– Blanche Lincoln, former U.S. Senator
– John Bode, President, National Corn Refiners
– Tamara Nelsen, Executive Director, Minnesota AgriGrowth Council
– Dave Milligan, President, National Association of Wheat Growers
– Michelle Erickson Jones, Farmer & Owner, Gooseneck Land and Cattle, Broadview, MT
– John Paul Dineen, Farmer & Owner, Dineen Farms (TX)
– Max Moncaster, Associate Director, National Association of State Departments of Agriculture (NASDA)
– Angela Marshall Hofmann, Co-Executive Director, Farmers for Free Trade
USMCA implementation roundtable
(53:06)
Continue reading...