Agroparts
Administrator
Staff member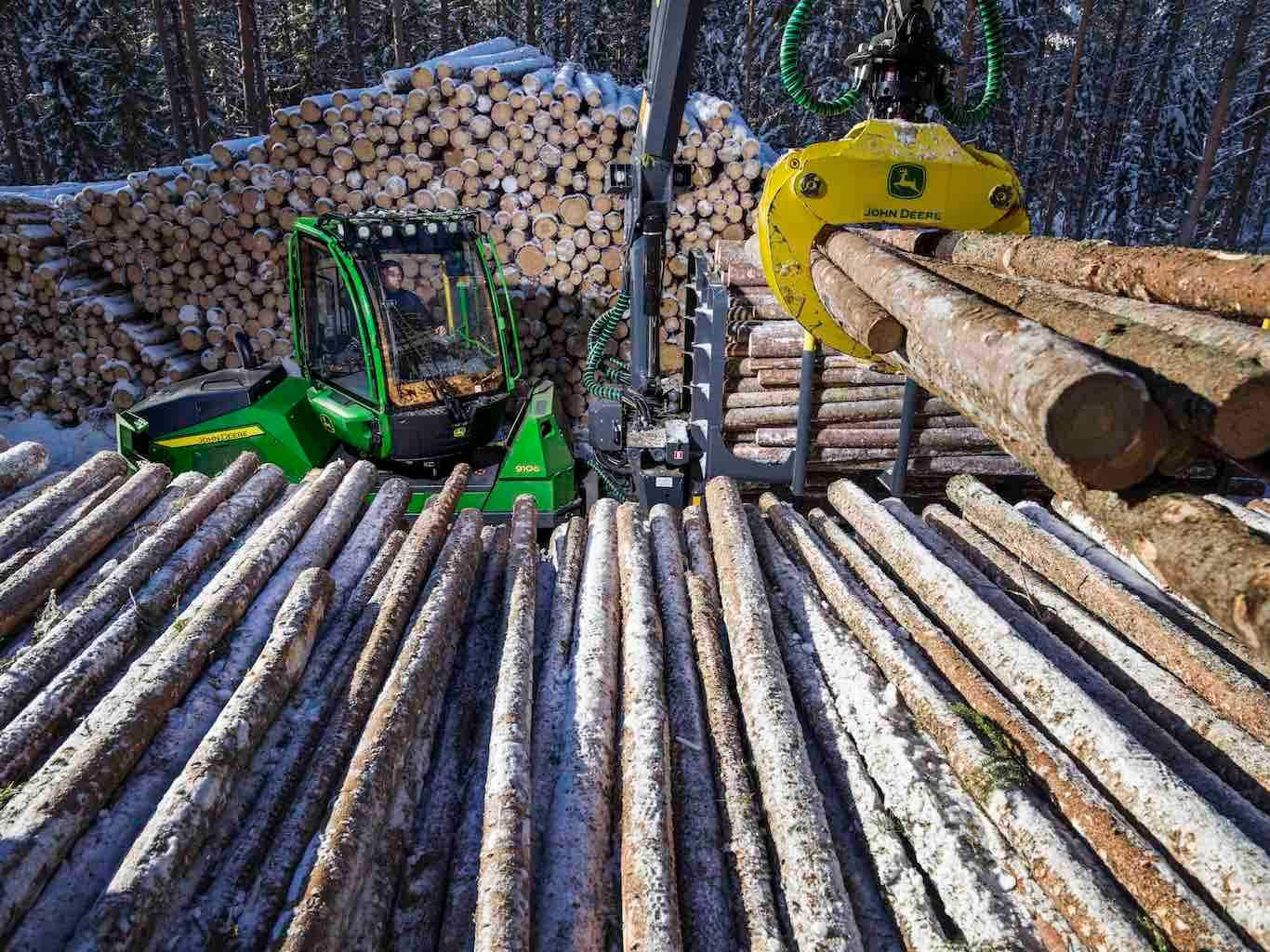 The 910G and 1010G models are available in six- or eight-wheeled configurations.​
MOLINE, Ill. (June 28, 2019)
– Agile and versatile, the new John Deere 910G and 1010G Forwarders provide loggers with a reliable solution designed with their needs in mind. Equipped with ultra-comfortable cabs and available with a variety of boom, load space, axle and cabin options, the 910G and 1010G machines can be customized for different worksites or operational needs.
"With the addition of the new 910G and 1010G Forwarders, we are rounding out our forwarder product line to offer a solution for every logging operation," said Niko Solopuro, product marketing manager WCTL Forwarders and Automation. "Compact in size, these versatile machines deliver power and productivity, even in the most demanding conditions. When in the woods, it is critical to have reliable equipment that ensures operators can efficiently finish jobs, no matter what they may face."
Available in a six-wheeled or eight-wheeled configuration, the 910G and 1010G models are ideal for early-to-late thinning operations and smaller end final felling applications. Both machines feature an improved design, including a shorter frame in front of the engine to reduce overhang, making operation easier in challenging terrain. Balanced bogie axles, rigid front axles on the six-wheel model, and an unbalanced front bogie axle option offer increased durability. Additionally, the 1010G is designed for improved, terrain-friendly operation and performance in soft soil, and available with a low-ground pressure rear bogie axle option. The models can be equipped with one of two large load space options, narrow and wide, and the headboard offers better visibility to the load area.
The 910G and 1010G models are available with a fixed or rotating and leveling cab. The rotating and leveling cabin helps the operator maintain the correct working posture to prevent stress on the back and shoulder areas, even on uneven terrain, and reduces vibration during operation. A cab rotation of 290 degrees provides a better view of the boom and grapple, while large windows allow for virtually unrestricted all-around visibility. Equipped with comfortable ergonomic armrests, a fully adjustable air-cushioned seat and automated climate-control system, the cab reduces operator fatigue and increases productivity throughout the day.
All booms come standard with precise boom control, and the CF5 boom is available with optional Intelligent Boom Control (IBC). The IBC feature simplifies boom operation, automatically controlling the lift, slew and the extension of the boom based on the location of grapple, increasing accuracy, productivity, and, ultimately, the number of loads per each work shift. With IBC, the operator no longer needs to control each independent boom joint movement separately, instead controlling the boom tip directly.
Both models are designed to enhance drivability and productivity, featuring a transmission with high tractive force and Adaptive Driveline Control (ADC). A first in the forestry industry, ADC improves drivability and productivity by allowing the operator can select the desired RPM setting (Eco, Normal, Power) for the operating conditions. Once selected, the system automatically adjusts the engine's RPMs to correspond with the engine load. In high-load situations, driveline control ensures that the diesel engine runs smoothly and uses the available maximum tractive force efficiently.
The 910G and 1010G models feature the TimberMatic™ control system, which includes a configurable user interface, cruise control and inclination display. MECA control modules, simple CAN busses and a streamlined electrical system improve the efficiency of machine functions. Additionally, the machines are compatible with the TimberMatic Maps and TimberManager technology offerings, which provides a streamlined software solution that enhances machine connectivity and communication. An extension of the control system, the TimberMatic Maps solution utilizes a mobile network to share real-time product information between machines, such as harvester and forwarder, as well as with the managers in the office. This data can be accessed using the TimberManager web-based solution, which allows the managers to follow progress of the work site, offering total visibility to the operation from the land harvest to the machines at work.
To learn more about the 910G and 1010G Forwarders, as well as the rest of the John Deere forwarder line, visit your local John Deere Forestry dealer or www.deere.com/forwarders.
About Deere & Company
Deere & Company (NYSE: DE) is a world leader in providing advanced products and services and is committed to the success of customers whose work is linked to the land - those who cultivate, harvest, transform, enrich and build upon the land to meet the world's dramatically increasing need for food, fuel, shelter and infrastructure. Since 1837, John Deere has delivered innovative products of superior quality built on a tradition of integrity. For more information, visit John Deere at its worldwide website at www.JohnDeere.com.
Worldwide Construction & Forestry Division
Mailing: P.O. Box 8806
Moline, IL 61266-8806
For Media Inquiries, Contact:
Amy Jones
imre
Phone: 410-821-8220
E-mail:
amyj@imre.com
Both machines feature a new design, improving operation in challenging terrain.​

All booms come standard with precise boom control.​

The new 910G and 1010G machines feature comfortable cabs.​

Both machines feature a new design, improving operation in challenging terrain.​