Farm Machinery
New member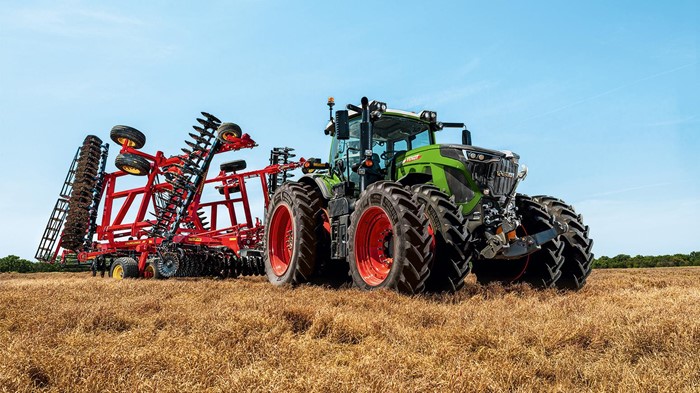 Fendt has announced five new models in the company's 900 Vario series of tractors. The series includes a new 942 Vario model, which is the first 900 Vario model to top 400 horsepower in maximum rated power output. (Photo courtesy of Fendt.)
An "all-around high-power tractor," "extremely versatile," and "designed for heavy traction work on every field across the world" is how German agriculture manufacture Fendt is describing the five new models in its 900 Vario tractor series. Available for delivery in 2019's second half, the models include the new high-end Fendt 942 Vario, the first 900 Vario series model to top 400 horsepower in maximum rated power output.
The New 900s
Fendt—an ACGO-owned brand along with Challenger, GSI, Massey Ferguson, and Valtra—bills the new 900 Vario models as a "stunning continuation" of the large-tractor series it introduced in 1995 at the Agritechnica trade show. Besides the 942 Vario (415 horsepower; 305 kW), the new models include the 930 (296 horsepower; 217 kW), 933 (326 horsepower; 239kW), 936 (355 horsepower; 261 kW), and 939 (385 horsepower; 282 kW).
The 900 Vario Series, described as a "compact high-power tractor class" designed to meet individual requirements of large farms and contractors worldwide," falls between Fendt's 800 and 1000 Vario series. Fendt also offers the 1100MT, 900 Vario MT, 700 Vario, 500 Vario, 300 Vario, 200 Vario, and 200 V/F/P Vario ranges that provide maximum power ratings from 72 to 598 horsepower.
Talking Power
Compatible with all common attachments, featuring a reversing driver station, offering a 60-km/h transport speed, and operating at a "relatively low weight" of 11.7 tonnes, the new models are built for "heavy tractive or PTO work," says Fendt. Powering that work is an all-new MAN six-cylinder, 9-litre engine that integrates a VTG (variable turbine geometry) turbocharger and that meets the European Stage V emissions standard via a DOC (diesel oxidation catalyst), DPF (diesel particulate filter), and SCR (selective catalytic reduction) technology. Elsewhere, the models' VarioDrive powertrain "builds up together with the perfectly aligned TA 300 Vario transmission," Fendt notes.
With the new models, Fendt is implementing its Fendt iD low-speed engine concept for the first time in the 900 series. While the 900 Vario engine functions at 1,700 rpm, this lowers to 650 rpm when idling. Overall, the 900 Vario can hit 60 km/h at 1,450 rpm, 50 km/h at 1,200 rpm, and 40 km/h at 950 rpm, Fendt says. The 942 Vario, meanwhile, can output 1,970 newton metres of torque at 1,100 rpm. Depending on the terrain, Fendt says torque will distribute dynamically over the rear and front axles, with the front axle driven separately. Decoupling the rear and front axles "avoids tension on the road and on bends" to enable full in-field traction, Fendt says. "Especially during cornering, the tractor is pulled around the curve by the 'pull-in turn' effect. The result is a small turning circle with full traction," Fendt says.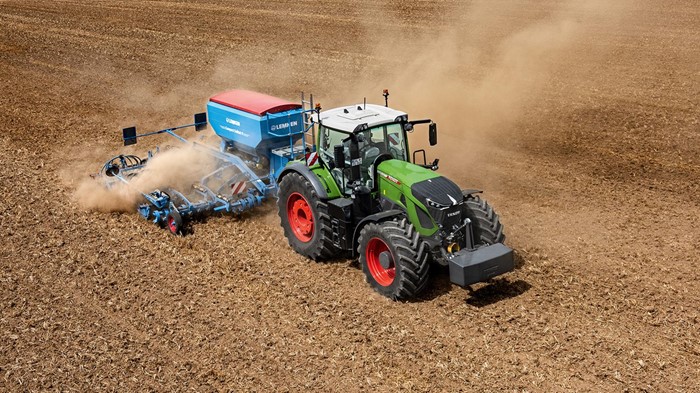 Fendt bills its new 900 Vario series tractors as "extremely versatile" models suitable for heavy traction work "on every field across the world." (Photo courtesy of Fendt.)


Get Connected
The Fendt Life Cab, a "new class of cab" featured on the new 900 models, is equipped with the Fendt Connect central telemetry system and Smart Connect. The former analyses and manages machine data that operators can use to remotely manage their fleet to optimise machine settings. The system also amasses CAN bus data owners can use for tractor positioning and routing, fuel consumption, speed, hours, usage, and other purposes. Dealers can also access the data for preventative-maintenance purposes.
Smart Connect, standard on Fendt ProfiPlus models, enables operators to connect a tablet to a tractor's internal Wi-Fi to view machine-related data. Among other things, operators can use the tablet screen as another display area for the Varioterminal to control ISOBUS attachments. Tractor and attachment settings are automatically optimised Via TIM (Tractor Implement Management) assistance. The TIM-ready option is available on all Fendt's tractor series equipped with a current 10.4-inch Varioterminal.