Farm Machinery
New member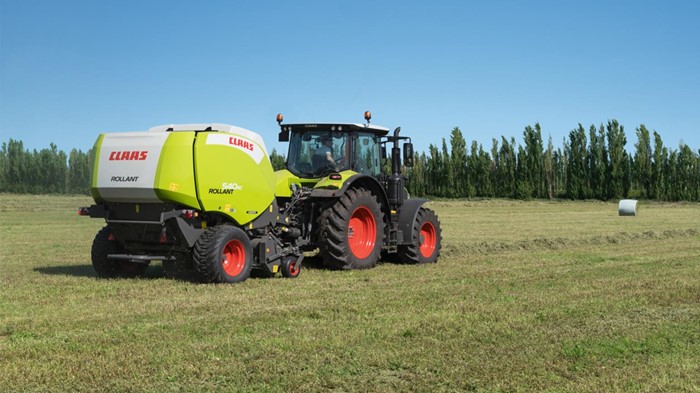 The ROLLANT 540 fixed-chamber round baler that CLAAS will have on hand at ScotGrass 2019 features 15 rollers featuring a serrated profile that help maintain "optimum bale rotation," including in moist conditions. (Photo courtesy of CLAAS.)​
When leading farm equipment manufacturer CLAAS appears at the upcoming ScotGrass 2019 trade show on May 15 at the Crichton Royal Farm in Dumfries, it will honor both its past and present. The past pertains to two JAGUAR forage harvester models CLAAS will display bearing special "40,000" branding in reference to the 40,000 JAGUAR foragers CLAAS has produced since debuting the series in 1973. To honor the present, the firm will display the ROLLANT 540 fixed-chamber round baler and DISCO MOVE front-mounted mower that it recently added to its product lineup.
All In The Rollers
In the ROLLANT 540, ScotGrass attendees will see a fixed-chamber round baler with a cam-controlled 2.10-metre pickup width that outputs bales measuring 1.22 metres in diameter and 1.24 metres in width. The ROLLANT 540 features new rollers, a sturdier chassis, net- or film-wrapping options, and a new drive concept.
The ROLLANT 540's redesigned chamber includes 15 rollers featuring a serrated profile, which CLAAS says helps maintain optimum bale rotation even in moist conditions. CLAAS also outfits the rollers with specially hardened, individually replaceable 50-millimetre stub shafts that are bolted to the roller body. CLAAS says the rollers that take on the most load are equipped with new double-race bearings that help extend service life.
Elsewhere, an optional MPS II system combines three chamber rollers that pivot into the chamber to enhance bale compression, enable early bale rotation, and produce a "perfectly uniform" bale shape. Besides supporting both film and net wrapping options, the ROLLANT 540 also provides a right-side ramp that makes loading the wrapping system easier. The new baler is compatible with CLAAS' COMMUNICATOR, OPERATOR, and ISOBUS terminals.

The DISCO MOVE 3200 front mower that CLAAS will display at ScotGrass 2019 applies a headstock design that provides 600-millimetre upward and 400-millimetre downward travel for enhanced contour-following. (Photo courtesy of CLAAS.)
​
On The MOVE
The DISCO MOVE 3200 front mower that CLAAS will display at ScotGrass provides a 3-metre working width and is available with (FC model distinction) or without (F) a tined conditioner. The mower features a newly designed headstock that provides a 1,000-millimetre-plus range (600mm of upward and 400mm of downward travel) independent of tractor linkage. CLAAS says that approach ensures "optimum contour-following in the most uneven of fields."
Elsewhere, the DISCO MOVE can pivot laterally from a 30-degree-angle central pivot point, thus enabling the mowing unit to swing backward diagonally to avoid hitting obstacles. CLAAS says the headstock and integration of a lower pivot point also translates to "excellent contour following, especially for larger tractors and at higher speeds."