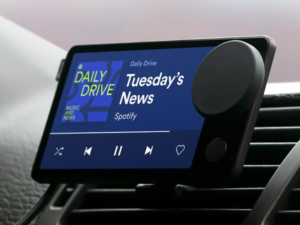 Seriously. There is a
Car Thing
coming from Spotify. Thank you Spotify for coming up with a new gadget for all the #AgNerds out there. And, especially a gadget that allows us podcasters to have our programs heard in another way.

Between work commutes, taking the kids to school, daily errands, and road trips, Americans spend countless hours on the road. It's no surprise, then, that there are over 70 million user-generated driving-related playlists on Spotify. No matter where you're headed, Spotify is the perfect companion in the car, thanks to the many ways to listen to Spotify and our curated playlists, like Daily Drive and Songs to Sing in the Car. And today, we're excited to announce our newest exploration: a limited release of Car Thing, a new smart player that fills your car with music, news, entertainment, talk, and more.

Currently available to eligible users in the U.S., Car Thing enables you to play your favorite audio faster, so you're already listening to that hit song or the latest podcast episode before you've even pulled out of the driveway. Switching between your favorite audio is effortless, allowing you to shift gears to something else as soon as the mood strikes. And when it comes to controlling the device, use it in the way that works best for you, whether that's voice, touch, or physical controls.
Find out more from
the press release
.
Continue reading...